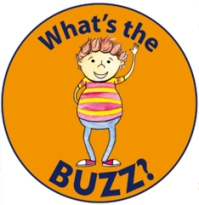 For 7-12 year olds
What's the Buzz is an internationally recognised social skills program developed by Mark Le Messurier and Madhavi Nawana Parker as a 16 lesson highly structured, role play and play- based program designed to teach children how to think socially and make friendship work.
Who is it for?
What's the Buzz? Is designed for all children, but are especially valuable for those who struggle to appreciate the free-flowing reciprocal nature of social interactions. It has proven to be helpful for children with higher-functioning forms of Autism Spectrum Disorders, those identified with language disorder, specific learning difficulties, Auditory Processing Disorder, Non-verbal Learning Disorder, Pervasive Developmental Disorder – not otherwise specified, ADHD, reactive behaviours, anxiety, shyness and social phobia
The program engages children into feeling friendship together, it encourages them to see it, taste it, smell it and laugh with each other. It connects young people and offers them the skills to belong.
Each unit/session runs for an hour, with resources, course material and information sheets shared with students and parents/carers.
What's the Buzz for primary students is particularly aimed at children aged between 7- 12 years of age, with a maximum group size of 8 students.
Cost per child is $40 per session.
Please note: For those children already receiving NDIS funding who are self or plan managed it may be possible to utilise funds to support payment of costs (this will need to be determined through your NDIS case manager).
When:       Tuesday afternoons weekly, Term 3 & 4 over 16 weeks
(Starting week 2 of each term)
Time:         4pm- 5pm
Location:   Keithcot Farm Children's Centre, Community Room
Bookings are essential as places are limited
To book please contact Laura: Phone 8251 2700 or email laura.francis@sa.gov.au