The Heights School first entered the Australian HPV Super Series in 2004 with a single vehicle raced by a team of 8 students. In keeping with the school's unique focus on astronomy, the students elected to call their vehicle 'Eclipse'. All vehicles that followed also maintained a space theme in their names.
The series of three events starts with rounds #1 and #2 at Victoria Park Racecourse which run for 6 hours on a Sunday in May and July. The 24 hour event, held in Murray Bridge is usually held at the end of term 3 in September.
Since 2010, a well organised group of parents, staff and students have entered 4 vehicles, one in each of the age categories of the event series of 3 races. Vehicle names have included 'Eclipse', 'Supernova', 'Phoenix', 'Quasar', 'Odyssey', 'Pulsar', 'Thor' and 'Orion'.
For more information please contact: Alison.Blake785@schools.sa.edu.au
All event information is available on the Pedal Prix Website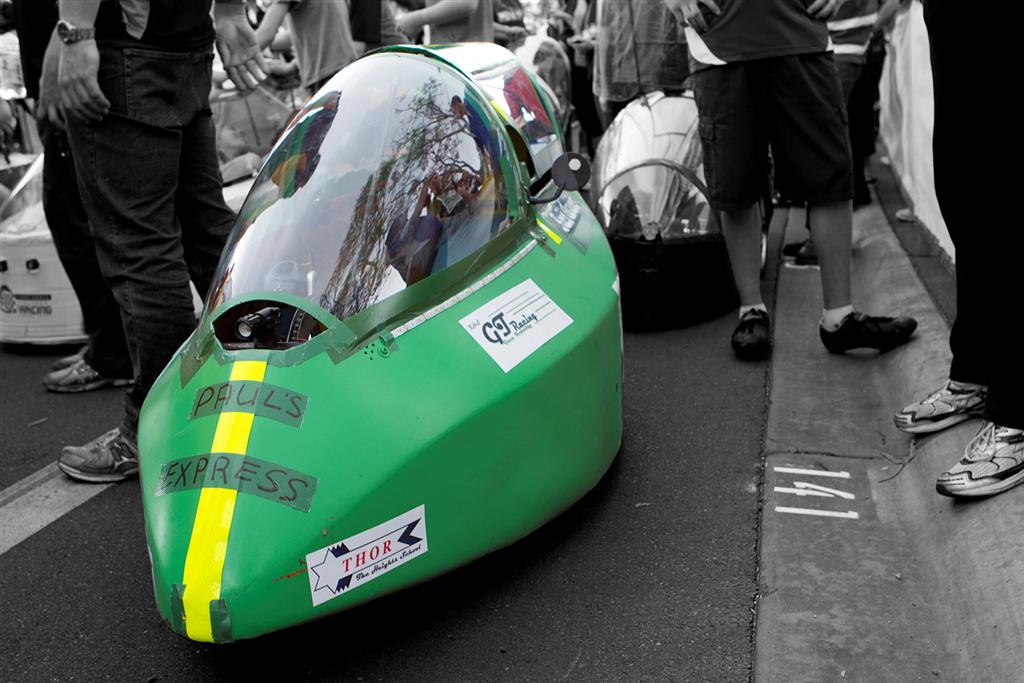 Vehicles must comply with strict safety standards and are scrutinised before each of the 3 events before being allowed to compete. Vehicles are often modified and repaired after each event in the school workshops to ensure they pass scrutineering tests.
Students' fitness, endurance and teamwork are tested, especially at the 24-hour event at Murray Bridge.
The school's team name is "Green Technology Racing" as the event promotes cycling as a mode of transport and, as a team, we actively care for the environment.
Student Activities Have Included:
Fitness Training
Planting trees on the school oval.
Pit crew / Maintenance activities
Catering for the events
Media promotion and advertising
Designing and drawing plans
Investigating materials and components
Workshop construction processes
Uniform design and production
Leadership development through student team managers
Regional School hosting from Tumby Bay Area School
International School hosting from Hwa Chong Institution, Singapore
Recycling bin construction for cans and bottles
Fundraising / Sponsorship for charities such as World Vision, Novita and the Neurological Research Foundation