For a number of years The Heights School has proudly supported students' involvement in the SUBS in Schools Technology Challenge. The Challenge forms a part of the SUBS in Schools Program, a collaboration between Re-Engineering Australian Foundation (REA), the Department of Defence and industry stakeholders including the Australian Submarine Corporation and Saab Australia. Students design either a Remotely Operated Underwater Vehicle (ROV) or a submarine which they must operate. Alternatively a three-dimensional virtual scale model of living quarters in a futuristic submarine can be built.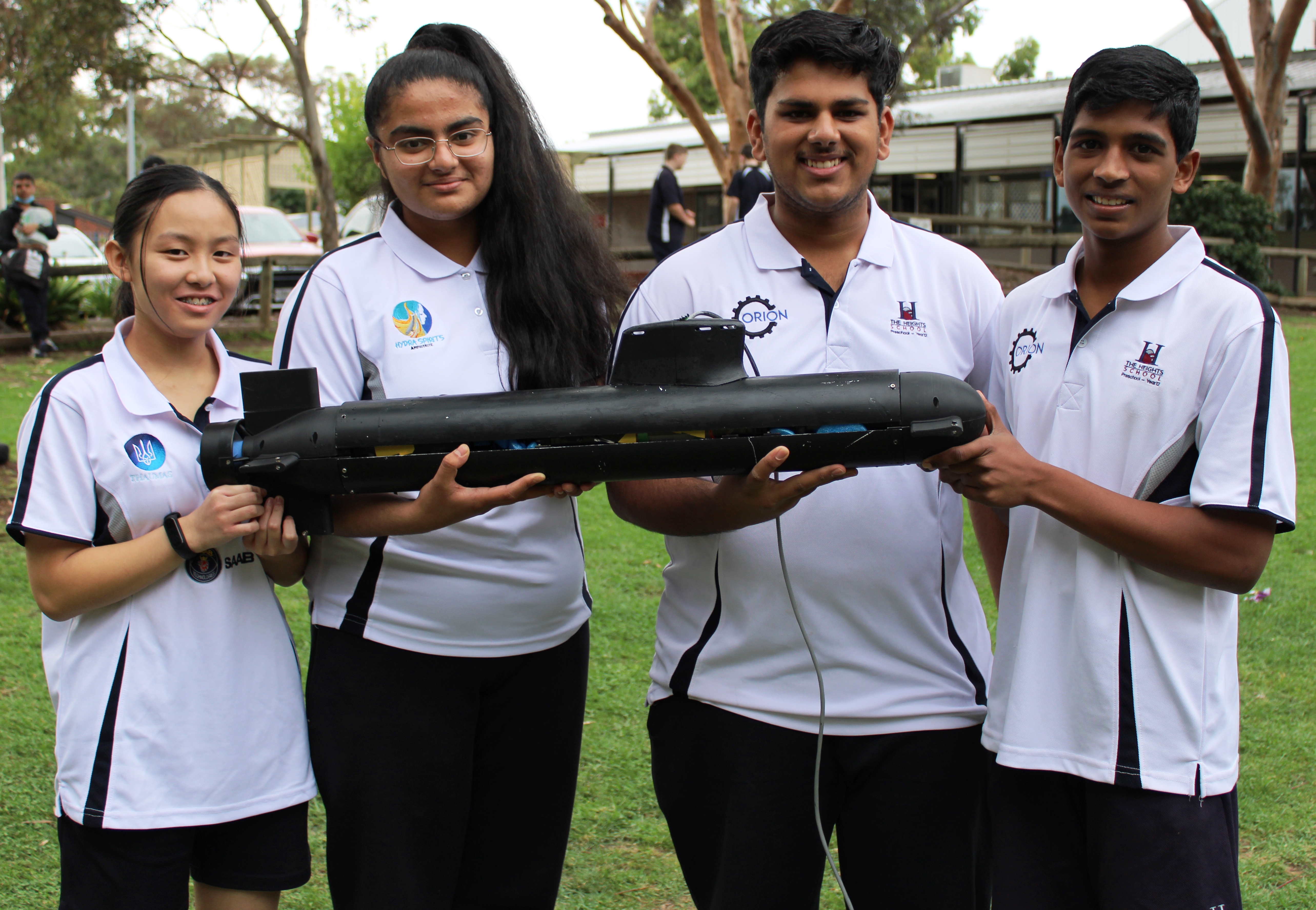 Recently students; Yashwanth Gunasheelan / Vatsal Thakkar / Aprilia Oon and Kaksha Vyas, guided and supported by Tom Cridland and Alison McNeill, competed in the National SUBS in Schools final in Melbourne. The week long competition is quite intense and consists of submarine design scrutineering, staging a booth exhibition promoting their design and themselves as well as demonstrating the functionality of their submarine in desired manoeuvres.
Our students, during and out of school hours, have put in considerable time preparing for this event. They have had setbacks including Covid delays but have stayed positive and focused.  Their perseverance paid off and due to their knowledge, enthusiasm and tenacity placed 3rd Nationally in the submarine class and were awarded the Bosch Excellence Award in team branding, an amazing result.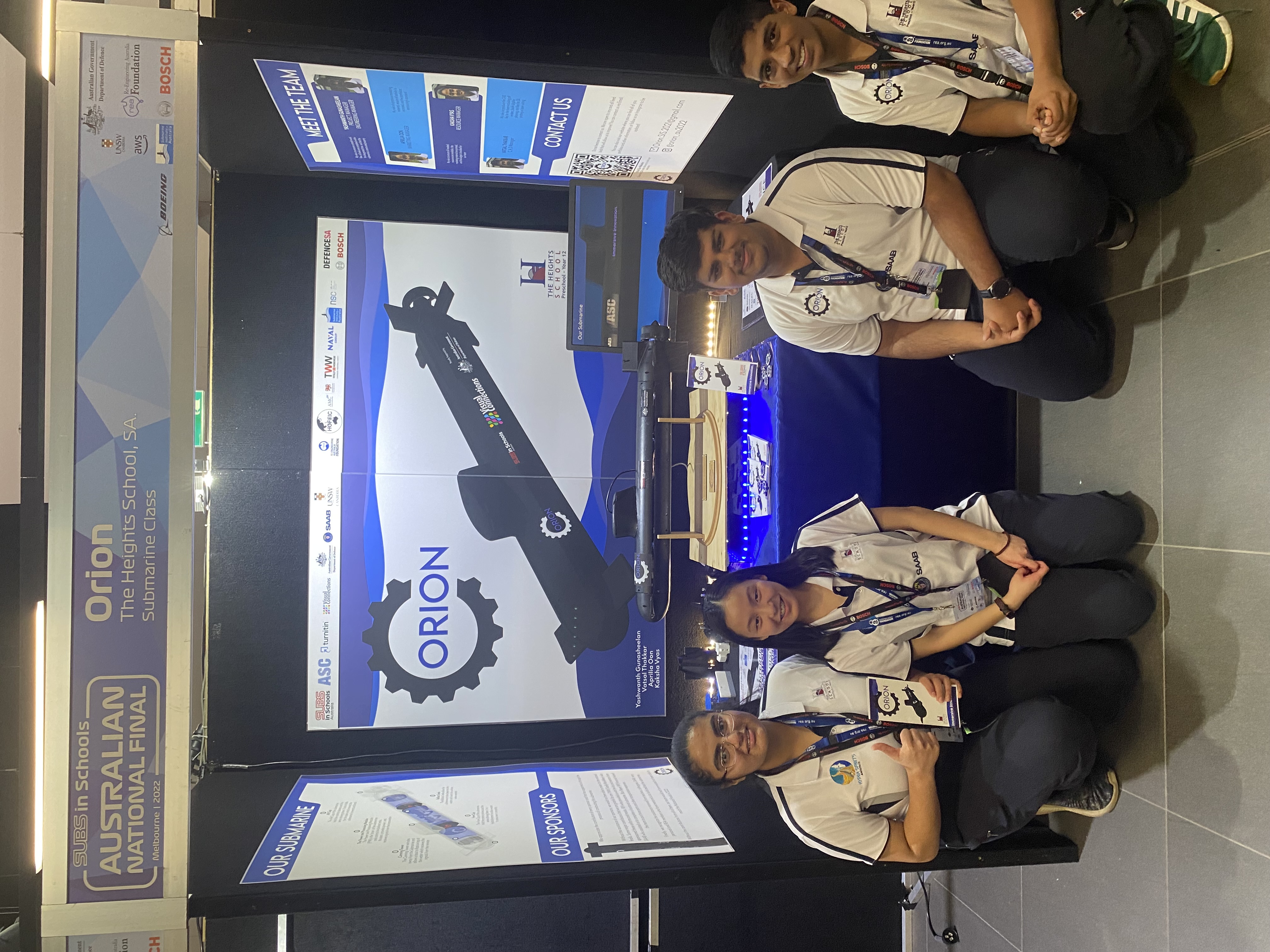 It should also be noted that the Judges and other attending school teachers commented on the way our students presented themselves and their politeness throughout the week.
Below is a summary of the journey from the team; In 2021, our Cutting Edge Science class were assigned to design, manufacture and test a submarine in preparation for the Re-Engineering Australia (REA) Subs In Schools State Finals that year.
In preparation for the State Finals, all teams were required to produce and Enterprise and Engineering folio, an Engineering Compliance Booklet, a fully functioning submarine and a trade display. Our teams were supported through this journey by engineering mentors from SAAB, which was really beneficial for the successful completion of the year long project. In addition, we were required to describe our journey of planning, thinking and problem solving to a panel judges which included REA staff and defence personnel. From these aspects, we attempted to collect most points in order to achieve a higher position on the leader board. We progressed through the State Finals to complete in the Australian National Finals that year. Despite several delays due to COVID-19, the National Finals still took place at the Robert Bosch Center in Melbourne, Victoria. Here, our team was accompanied by Mr Tom Cridland and Miss Alison McNeil. This competition was similar to the States competition but was held on a much larger scale with opposing schools participating from around the nation. With the competition spanning over five days, we engaged with other teams and members of the Defence and other large-scale industries, which was a great and memorable experience.
After days of preparation and hard work, we placed 3rd in the submarine class, and were also awarded the Bosch Excellence Award in Team Branding. Throughout the competition, we have gained deeper understanding regarding many of the industries that contributed to the success of the competition and STEM careers. This competition bought the opportunity for our team to meet so many people, who were professionals and people of high rank in various nation-wide disciplines including Defence. Moreover, we were really inspired by the hard work and effort everyone put into this competition. As a team, we would like to extend our special thanks to Mr Cridland and Alison for supporting and assisting us throughout the whole competition, it was truly a great pleasure and once in a lifetime experience!